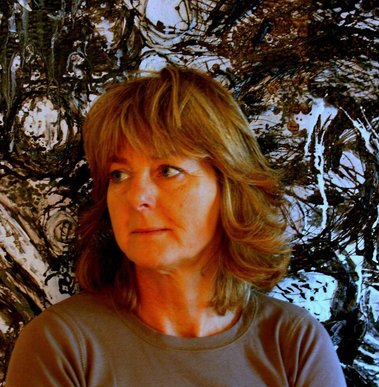 Biography
British artist Rachael Bennett born in 1956 grew up in Hampshire and attended Winchester School of Art, she then went to Liverpool University to complete her first degree. She then moved to London where by the age of 22 she was running a successful textile design business. For the next 20 years she sold designs and worked to commission internationally, mainly in the home furnishing market.During these years she was asked to contribute to the teaching programmes of several universities as a visiting lecturer, linking the commercial world and working with students' individual learning and development. Becoming interested in inspiring the creative process she trained in art therapy and Psychodynamic counselling for 4 years while continuing her design practice.She moved to live in Devon in the mid 90s. Bennett, using her experience with a wide range of art making materials produces evocative, powerful descriptions of liminal space, mostly in the form of land and seascapes. Her interest is in the integration of the materials used and a story to be told. Her process and philosophy is bold, informed by the bold life/work decisions she has always been able to make. She has professional representation and continues to exhibit widely. She is a member of the Devon Artist Network board which promotes creative Devon.
Artist Statement
I am interested in the liminal spaces within landscape created by natural transitions; those uncertain, indeterminate spaces caught between one world and another. My work is descriptive of form, light and place in an atmospheric way.
I want the viewer to experience, for example, that psychological state of mind created at the moment between wakefulness and dreaming, that threshold moment where alchemy happens and limitless contemplation is possible.
I look at landscapes, seascapes and the ever changing weather. The intimate landscape beneath my feet is just as engrossing as the grander view, and the interplay between the two, the near and the far, just as stimulating. With my painting, relationship between materials used and image created is everything to me. One is responsible for the other, it is symbiotic. The resultant conversation is where the true dialogue can happen. This is the entry point, the place where the liminal experience is possible – this is the essence of my work.
Representation
Gallery 5 Salcombe and Dartmouth, Devon/The Bracken Gallery, Chudleigh, Devon/Words and Pictures Gallery, Teignmouth /Jill Rousseau Gallery, Bideford, Devon / Ashburn Gallery, Ashburton, Devon./ On line Gallery https://www.singulart.com/en/artist/rachael-bennett-3783. /Tyrrell Gallery, Cambridge www.tyrrellartgallery.com/ The Absent Gallery www.theabsentgallery.com